Download
From Ameise-en
Client Download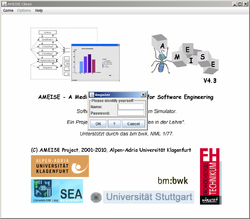 The AMEISE Client is Free-Ware and distributed as a Java application(there is also an EXE File for Windows). Therefore, the Client runs on almost every operating system. There are no registry changes or changes to the path information. As a consequence, the client can also be installed in restricted environments.
Requirements
Hardware(min)
CPU: Pentium III 1 GHz or more
RAM: 512 MB
Free space on HDD: 5 MB
Software(min)
Java Running Environment 1.5 or above
Download Instructions
Read the License Agreement
Agree to the license conditions
Download the Client
Server Download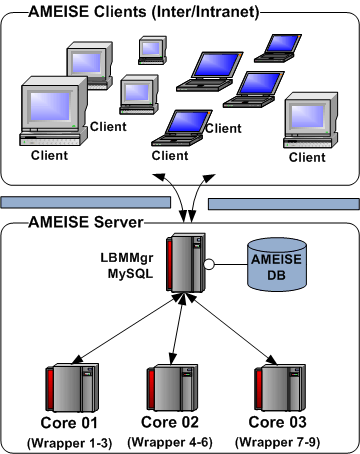 The AMEISE Server consists of three parts:the AMEISE database running MySQL 5.1 (innodb Type), the Load Balancing Manager (LBMMgr) and one or several Simulation cores (Wrapper). For a standalone installation all that has to be done is to start the parts from the Java archive files(which are tested and running under Windows XP, Linux and Solaris).
The hardware requirements are basically no problem, but the response times are influenced by the performance of the SQL database and the network connections between the components.
For further information please look at the FAQs. You can also find an architecture proposal at the AboutTheProject page.
Requirements
Hardware(min)
CPU: Pentium or AMD with 2.6 GHz or more
RAM: 2048 MB (1024 possible)
Free space on HDD: 4 GB
Software(min)
Java Running Environment 1.4.1 (JDK 1.5 or newer version are accepted.)
Download
A registration is required to use the AMEISE server environment. After registration you will receive a trial - license for the server. After successful validation you will get an unrestricted license from the AMEISE team.
Please send an email with your contact details to the AMEISE team
With your Username/PWD you are able to download the Server-SW and the DB-scripts on[1].

Please make sure that you have read and accepted the License Agreement when you download the software. If you have any questions, please do not hesitate to contact us (the AMEISE team).